The town Vimperk is often called "the gate of the Šumava mountains" or "the town below Boubín mountain", because it lies on the border of the Protected Landscape Area Šumava (Bohemian Forest) on the northern slope of Boubín mountain. It is a seat of the administrative and management of the Protected Landscape Area and National Park Šumava.
Vimperk is situated on the Volyňka river 16 km north-west of the town Prachatice, 700 m a.s.l.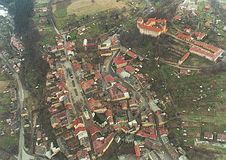 In the middle of the 13th century the castle was founded here for the protection of the trade route called Zlatá Stezka (Golden Path). The settlement around the castle is first mentioned in 1263. It grew due to its good location and in 1359 it was known as a small town. During the Hussite Wars Vimperk was captured and burnt down in 1423. In 1479 it became a town and it obtained a lot of privileges of royal towns and it was fortified. During the 17th and 19th centuries the town burnt down several times and majority of buildings was destroyed. In 1904 the whole square ruined by fire.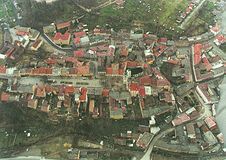 The Renaissance chateau was founded between 1622 - 1624 in the place of the original castle. The town walls were built after 1479 and they connected the castle's fortification system. Parts of them and six bastions and the so-called Černá Brána (Black Gate) have been still preserved.
The valuable originally Gothic Church of the Visitation of the Virgin Mary, one of the oldest buildings in the town, stands in the eastern (lower) part of the square (with two fountains from the 18th century).
Near the church, in the square, there is a bell tower, which was built about 1500 and reconstructed in 1909.
A few preserved half-timbered houses with shread heads, which were built in the 17th and 18th centuries, can be found in the town centre.
Vimperk is one of several towns in the Šumava mountains with tradition of glassworks and also printing - shortly after the discovery of the book printing the first two books and the first almanacs in Bohemia (maybe in Europe) were printed here.
The timber-processing industry and textile factories traditionally have been here too.
Many instructional and nature trails lead around the town. The branch of the Zlatá Stezka (Golden Path) leads along the way of the original trade route from the village Strážný to Vimperk. The instructional trail Údolím Vimperských Památek ("Through the Valley of Vimperk Landmarks") acquaints visitors with important sights of the town and its near surroundings. The forestry instructional trail goes on the slopes of Boubín mountain in the surroundings of Vimperk.
Mářský Vrch hill
instructional trail Sudslavická Stezka
Churáňov mountain
ruins of the Hus castle
settlement Kubova Huť
village Lčovice
village Záblatí
village Zdíkov
small town Čkyně
small town Stachy