The former small town, now village, Záblatí is situated about 5 km west of the town Prachatice on the Blanice river on the border of the Protected Landscape Area Šumava (Bohemian Forest), 593 m a.s.l.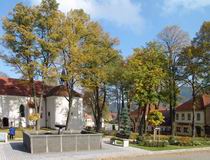 The first mentions of the village originate from 1337. The original settlement was a part of the domain of the Hus castle. It soon became a market town and it was obtained with the right to build the road in the direction of the important trade town Passau (Germany). The town developed and grew quickly due to the gold washing, which started in the Middle Ages on the well-known auriferous Blanice river. From 1630 the town was under the ownership of the castle town Vimperk and it was the eventful and developed small town till the Second World War.
After the Second World War the inhabitants were displaced and the village was plundered. It was renewed in the 1950's, when it was anew colonized.
The valuable Gothic Church of St. John the Baptist, which stands in the small square, was built in the middle of the 14th century. It was rebuilt into the two-aisled church in the first quarter of the 16th century. It is a characteristic example of the South Bohemian Late-Gothic sacral architecture.
The way of the Stations of the Cross runs about 500 m above the village. It begins near the road from Záblatí to the small village Křišťanovice.
The former fortress Drslavice is situated about 3 km north of Záblatí.
The access to the protected area Čertova Stráň (Devil's Slope) is possible from the neighbouring small village Chlístov (about 2.5 km north-west). The protected old lime tree, which is named after Master John Huss, one of 10 biggest trees in Bohemia, can be seen in Chlístov too.