The ruins of the Hus castle are situated on a rock above the Blanice river about 8 km south-west of the town Prachatice.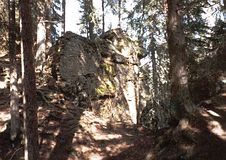 The royal castle was built in the place of the original guardian observation tower in 1341 and the tower became a part of it. It was founded for the protection of an important trade route Zlatá Stezka (Golden Path) and of the gold-bearing finding places below the castle near the river. In the 15th century the castle became a fort of rogue knights. For this reason it was captured and destroyed in 1441. It has not been rebuilt.
The remains of palace walls and bulwarks have been preserved up till the present day.
The village (nowadays a town) Husinec, birth place of Master John Huss (after whom the castle is named), belonged to the castle property.
The blue marked path from Křišťanovický Rybník (Křišťanovice Pond) near the small village Křišťanovice leads to the castle (about 2 km).