Husinec, the well-known a hometown of Master John Huss, lies on the Blanice river, 540 m a.s.l., about 5 km north-west of the town Prachatice.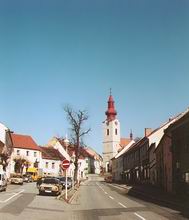 The first mention of the town dates back to 1359, but it was probably founded before 1340. It arose near the trade route Zlatá Stezka (Golden Path) and it was property of the domain of the Hus castle. At the end of the 14th century Husinec was under the ownership of two owners, but from the 16th century the whole town was under the ownership of the castle town Vimperk.
After the repealing of the serfdom (1785) the industry developed here and Husinec became one of three most developed towns in the region (Vimperk, Lenora and Husinec).
The originally parochial Gothic Church of the Holly Cross in the square is first mentioned together with the town in 1359. It was reconstructed in 1802. The town hall with the Late-Gothic portal from the 16th century can be found in the centre not far from the church.
Husinec is probably hometown of the preacher and reformer Master John Huss. The memorial with exhibitions of his life and of the Hussite movement can be visited in his house of birth. The painters Josef Krejsa and Cyril Chramosta were born in Husinec as well.
The yellow marked trail leads along the Blanice river, between Husinec and the village Záblatí (about 12 km) around the Husinec Dam. The so-called placers - remains of the medieval gold mining - can be seen there.