The village Lenora is a very well-known village of glass-making. It is situated on the confluence of the Řasnice and Vltava rivers at the foot of Boubín mountain. It lies about 15 km south of the town Vimperk on the border of the National Park Šumava (Bohemian Forest), 765 m a.s.l.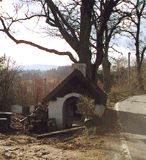 The original settlement was founded around glassworks in 1834 and was named after the wife of the owner of the local domain. The production of leaded crystal, which was the well-known product of the local glassworks, started at the same time.
The original residence of duchess was a small mansion. In the 20th century it was adapted for a museum of glass-making in the Šumava mountains (Bohemian Forest). Since 1970's the museum has been located in the square.
An unusual sight is a public bread oven built in the 19th century. It stands near the road in the centre of the village.
The roofed wooden bridge across the Vltava river can be seen behind the village (about 1 km). It was built in the 19th century and it was used for regulation of the floating timber on the Vltava river.
A small bunker from the 1930's is near the bridge - it is one of many bunkers, which were components of the fortification system on the southern boundary of former Czechoslovakia. Some of them can be found in the surroundings and on the slopes of the Boubín mountain too.
Boubín mountain
instructional trail Naše Rašeliniště
Chalupská Slať peat-bog
Velká Niva peat-bog
Mrtvý Luh peat-bog
ruins of the Kunžvart castle
settlement Kubova Huť
village Strážný
town Volary