The nature reserve Mrtvý Luh (Dead Mead) lies on the confluence of the Studená Vltava (Cold Vltava) and the Teplá Vltava (Hot Vltava) rivers (the beginning of the Vltava river). It is situated 5 km south of the town Volary.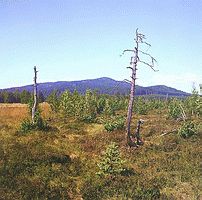 The valuable peat-bog has been protected since 1948 and it is 394 ha large. Most of the vegetation comprises mountain pine and white birch. Some rare plants and animals, typical of Norse types of tundra, can be found here as well.
The so-called Skeleton Trees are typical phenomenon of the Mrtvý Luh. They are withered and bleached from the sun and are without roots. They got their name after this appearance. The trees withered after the underground fires of peat, which damaged their roots.
The reserve is not open to the public and can only be seen by canoe from the Vltava river, which passes through the reserve. The reserve is a part of Zone I of the National Park Šumava (Bohemian Forest).