The town Volary lies in the wide basin near the Teplá Vltava river (Hot Vltava) on the border of the National Park Šumava (Bohemian Forest) about 16 km south-west of the town Prachatice, 760 m a.s.l.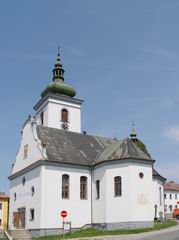 Volary is first mentioned in 1359. It was founded on the trade route Zlatá Stezka (Golden Path) during the colonization of the Šumava mountains in the 13th and 14th centuries. It quickly developed due to its good position and the trade with wood from the large forests in the surroundings. In 1421 it was already known as a small town.
Settlers from the Alps came to Volary in the 16th century. They brought a new (Alpine) system of stockbreeding.
The Zlatá Stezka was used till the beginning of the 18th century. The decreasing use of trade route led to the town's decline. In 1871 Volary was promoted to the town, but the decline continued. The new boom began in the second half of the 20th century.
The name of the town originates in the name of stockbreeders, who were called "volaři".
The peculiar houses of the Alpine settlers can be seen in Volary. Majority of buildings in the village were in this style till the middle of the 19th century, when big fire destroyed most of them.
The Early-Baroque St. Catherine's Church, which was founded in the place of the original Early-Gothic edifice in the 1680's, stands in the upper part of the square.
A memorial to the victims of the March of Dead can be seen in the cemetery. 96 Russian, Polish, Hungarian, German and Czech women prisoners died here in the so-called March of Dead from the concentration camp in Ravensbrück (Germany) at the beginning of May 1945 and they are buried here.
A lot of small sheds for grass can be seen in water meadows around Volary. They were used for storage of hay, which was taken away in winter, when the soil was frozen.
The branch of the instructional trail Zlatá Stezka (Golden Path) leading from Prachatice passes through Volary and continues to Germany.
Boubín mountain
instructive trail Naše Rašeliniště
instructive trail Medvědí Stezka
Mrtvý Luh peat-bog
Stožec hill
ruins of the Hus castle
village Záblatí
village Lenora
village Horní Vltavice