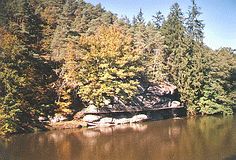 The Židova Strouha (Jew's Gully) is the left tributary of the Lužnice river. It springs 519 m a.s.l. near the small village Horní Bukovsko (about 12 km west of the town Týn nad Vltavou) and it empties into the Lužnice river about 3 km south of the town Bechyně. Its flow leads all the way to the north-west.
The stream runs through a romantic, narrow and untouched valley with rock formations and massifs in the lower reaches. The yellow marked tourist path leads through the most attractive part between the road from Týn nad Vltavou through the village Březnice and to the confluence with the Lužnice river. Then the trail continues to Bechyně.
The stream is about 20 km long and the river basin is 74 square km.