The town Týn nad Vltavou is situated on the Vltava river not far from the confluence of the Vltava and Lužnice rivers at the beginning of the Orlík Dam. It lies 30 km north of the town České Budějovice, 356 m a.s.l.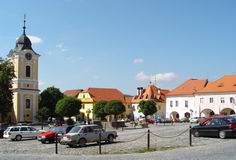 Týn nad Vltavou is counted among the oldest settlements in South Bohemia. In the 12th century (maybe in the 10th century) it used to be a fortified court of Prague's bishops with a market and parochial settlement with two churches. The settlement was burnt down at the end of the 1280's and a new castle and a town called Nový Týn ("New" Týn) were founded here. The town developed successfully and Emperor Rudolph II promoted it to a royal town in 1609. During the Thirty Years' War growth stopped, the town burnt down several times and was plundered twice. The new boom started after the Second World War.
The name of the town originates in the word "týn" - it was used for places, which were selected for town foundations and enclosed by a fence. Týn nad Vltavou means "Týn Above the Vltava River".
| | |
| --- | --- |
| | |
The town arose around a slanted square. A few Renaissance citizens' houses have been preserved there. The originally Renaissance town hall, which stands on the western side of the square, was rebuilt after fire in 1796.
On the northern side of the square is the Early-Baroque archiepiscopal mansion from 1699. The town museum with exhibitions of ceramics, rafting, shipbuilding and puppetry is located there in present.
The dominant feature of the square is the originally Early-Gothic St. James' Church founded around 1279. An interesting Baroque building is the St. Vitus' Church in a cemetery not far from the square.
Only the remains of the former castle can be found in the park on the knoll above the town. The revolving auditorium of an open air theatre is situated in the park as well.
The steel bridge spanning the Vltava river near the square is a technical monument.
| | |
| --- | --- |
| | |
The poet Antonín Jaroslav Puchmajer was born in Týn nad Vltavou. The famous Czech puppeteer Matěj Kopecký, who lived in the neighbouring village Koloděje nad Lužnicí, is buried in the cemetery here.
The Baroque Calvary from 1753 can be seen in the grove near the road to the small village Březnice.
The observation tower with a nice view of the town stands above the confluence of the Vltava and Lužnice rivers.
Býšov fortress
Židova Strouha stream
small village Neznašov
village Albrechtice nad Vltavou
town and chateau Bechyně
Kořensko Dam
Hněvkovice Dam