The spa town Bechyně is situated in the romantic country on the rocky spit above the valley of the lower reaches of the Lužnice river about 20 km south-west of the town Tábor, 180 m a.s.l.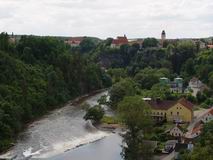 Originally there was a Slavonic fortified settlement in the 9th century. It was probably the most important administrative centre of Bohemia at that time. The castle was founded here by King Premysl Ottakar II on the rock above the river in the 13th century. The village around the castle originates from the same time and it already became a town in 1323. During the Hussite Wars the town was burnt down by the Hussites in 1422 and they occupied it in 1428. In the 15th century the tradition of pottery was founded here. The first ceramic workshop arose here at the and of the 19th century. At the turn of the 16th century the town was extensively reconstructed in the Gothic style and the fortification system of the town and castle were built, the system was one of the most perfect in Bohemia.
The spa was founded in Bechyně at the beginning of the 18th century near the spring of healing water in 1728. The importance of the town went down from 1776.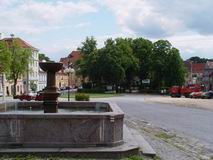 The most valuable sight of the town is the originally Gothic castle, which was rebuilt into the Renaissance chateau at the end of the 16th century.
The Franciscans' monastery with the Church of the Annunciation of Virgin Mary from the 13th century stands on the eastern outskirts of the town not so far from the chateau above the Lužnice river.
The centre of the town is the square with series of the Renaissance and Baroque citizens' houses. Its dominant feature is the St. Matthew's Church on the western side. The church was founded at the beginning of the 16th century in the place of the previous sacral building. The town museum and the museum of the fire fighting are located in the square too.
Another interesting sight is the ferroconcrete bridge spanning the valley of the Lužnice river on the eastern outskirts of the town.
The Baroque St. Michael's Church can be seen in the cemetery near the centre.
The existence of the Jewish minority is confirmed thanks to the Jewish cemetery, which lies not far from the old Christian cemetery.
The new modern spa keeps the tradition. They are mostly used for the treatment of rheumatism mostly and the main remedy is peat from the peat-bog Borkovická Blata (Borkovice Marshland).
About 3 km north-west of Bechyně there stands a wooden observation tower on the hillock (450 m), on the border of the small village Radětice.
valley of the Smutná river
canyon of the Židova Strouha stream
Černická Obora preserve
ruins of the Dobronice castle
small village Rataje
small town Bernartice