The peat-bog Borkovická Blata (Borkovice Marshland) lies 5 km south-west of the town Soběslav near the village Borkovice. The main deposit (field) of peat-bog is bordered with the line among the villages Borkovice, Mažice, Zálší, Klečaty and Komárov.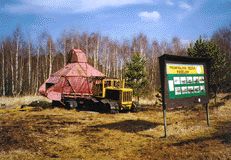 The blocks of peat were manually dug and they were used for heating till the middle of the 20th century. Then the industrial mining started here and it finished when the main deposits were empty.
The best preserved part, which has an area 54.5 ha, has been protected since 1980. The 4.5 km long instructive trail was founded there. Most of the path through Borkovická Blata leads on the wooden duckboard.
The central gate is situated near the parking-lot, which lies near the road from the village Mažice to the village Vesec (and then to Soběslav), about 2 km behind the village Mažice. The yellow marked trail from the town Veselí nad Lužnicí (8 km) or from the village Borkovice (3 km) connects the blue one leading to the gate. The blue marked path from Soběslav runs to the Borkovická Blata as well (about 12 km).