The town Veselí nad Lužnicí is situated on the confluence of the Lužnice and Nežárka rivers about 30 km north-east of the town České Budějovice, 407 m a.s.l.
It was originally two separate towns - Veselí nad Lužnicí and Mezimostí nad Nežárkou. They were joined in 1947 to one town with the name Veselí nad Lužnicí. Only the railway station Veselí-Mezimostí, which lies about 2 km south of the central railway station, is a reminder of the former Mezimostí nad Lužnicí.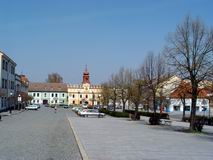 The oldest mention of Veselí originates from 1259, when the original village was property of the Rožmberks. Later it became a possession of the King and in 1362 it was promoted to a town. In 1468 the town was burnt down. Then it was under the ownership of the Rožmberks again, from 1491. From 1660 it was under the ownership of the Schwarzenbergs.
The biggest growth of the town started after the construction of the railroad in 1871, when Veselí became an important railway junction.
The former Mezimostí was an autonomous settlement with a fortress as early as 1360. The fortress was destroyed at the end of the 14th century. The development of Mezimostí started hand in hand with the neighbouring Veselí with the inception of the railroad. Mezimostí became a town as late as 1908.
Most of its sights can be seen in the long square. The Renaissance town hall and the originally Renaissance citizen house (museum today) stands in its lower part. Another interesting Renaissance building is the former post-office on the western side of the square.
The parochial Early-Gothic Church of Elevation of the Holy Cross from the middle of the 13th century towers above the town, south of the square.
The memorial to the composer Karel Weis is located in the museum.
The path of the nature instructional trail Veselské Pískovny (Veselí Sand Pits) begins on the southern outskirts of the town.
Borkovická Blata peat-bog
reserve Vlkovský Přesyp
small town Lomnice nad Lužnicí
small town Kardašova Řečice
town Soběslav
Horusický Rybník pond