The small town Kardašova Řečice lies about 10 km north-west of the town Jindřichův Hradec, 439 m a.s.l.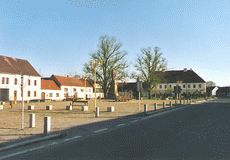 It used to be a market village in the 13th century. Later it was a small town with the guardian castle, which was destroyed during the Hussite Wars. Only traces of earthwork and of a moat can be found here. The original name of the village was Řečice. The modifier "Kardašova" ("Kardaš's Řečice") comes from the Turkish language - "kardaš" means "brother" - and it was added in the 16th century.
The most interesting sight in the town is the Church of St. John the Baptist. It was built in the place of the original Romanesque-Gothic church, which was extended in 1380 and reconstructed between 1545 - 1580. The single-aisled church has the Renaissance tower with the dome.
The Baroque chateau originates from the first half of the 18th century.
The Jewish cemetery can be found about 1 km south of the town. It was founded before 1560 and the oldest tombstones are from the 18th century.
The monument to the poet Boleslav Jablonský is located in the square.