The small town Lomnice nad Lužnicí is situated 10 km north-west of the town Třeboň on the Lužnice river 424 m a.s.l.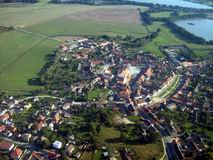 The oldest mention of the town is from the middle of the 13th century. At that time the village was property of Oldřich of Landštejn. In 1382 it was promoted to the town with the license to crenellate by King Wenceslas II. During the Hussite Wars Lomnice was a free town. After the defeat of the Hussites the town was captured by the Rožmberks and they added to the domain of the town Třeboň.
The Church of St. John the Baptist stands in the town. It burnt down twice, for the first time in 1358 and then in 1560. The present Baroque appearance is from the reconstructions in the 18th century.
The Gothic St. Wenceslas' Church behind the town hall originates from 1359.
Lomnice is a hometown of the Czech writer and moralist of the turn of the 17th century Šimon Lomnický.
The instructional trail Velký Lomnický leads in the area around Velký Lomnický pond.
reserve Velký a Malý Tisý
reserve Vlkovský Přesyp
town and chateau Třeboň
Dvořiště pond
Rožmberk pond
Zlatá Stoka canal