The instructional trail Velký Lomnický leads in the vicinity of the small town Lomnice nad Lužnicí, round the ponds Velký Lomnický and Malý Lomnický, about 10 km north-west of the town Třeboň.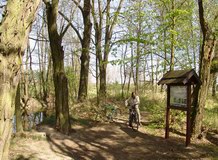 It acquaints visitors with the history of Lomnice nad Lužnicí, with the history of the ponds, water birds and water flora, and with interests of this region.
The trail is passable for pedestrians. It is about 6.5 km long and there are 15 informative boards along the path.
The point of departure is on the outskirts of Lomnice nad Lužnicí by the cemetery. Then the trail leads along the place called Farská Louka and then along Zlatá Stoka (Golden Canal) to the board Nr. 6. Then it continues as a circular trail returning to the same place.
The visitors use bridge over Zlatá Stoka canal, they can also use the lookout of water birds, observation tower, and resting places.
The trail is marked with green-white signs.
Interesting places on the trail:
Areal Farská Louka
Vydýmač pond - utilization, water birds
Zlatá Stoka - water canal connecting ponds in the region round Třeboň
Water birds - important species of water birds on Velký Lomnický pond
Lomnice nad Lužnicí - history and interests
Fauna and flora in the vicinity of Lomnice nad Lužnicí