The impressive Renaissance chateau is situated near the south-western side of the historical centre of the town Třeboň.
It was originally the courtyard of feudal lords, then a fortress, and later, in the second half of the 14th century, a small stone castle. Through time it was enlarged into a big castle, but it burnt down in the 16th century. The Rožmberks, proprietors of the town and castle, started the reconstruction of the castle into a Renaissance chateau. They didn't complete it, but the Schwarzenbergs, the new owners, finished it later.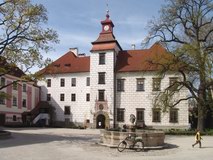 The chateau comprises the four-winged two-storeyed building with three-storeyed tower. The entrance to the precinct is through the northern central gate from the town square to the courtyard. The fountain from 1722 is in the middle of this courtyard with arcades.
The large Renaissance park was founded behind the chateau at the beginning of the 17th century by Petr Vok of Rožmberk. It was altered into an orchard after the Thirty Years' War and later, in 1804, into the English park.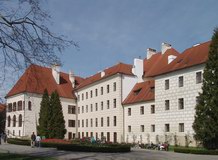 The exhibitions in memory of the period of ownerhip of two important South Bohemian families - the Rožmberks and the Schwarzenbergs - are located in the right wing. The interesting interiors can be seen there too - one of them is an interesting Renaissance hall arched with the specular vault.
Most interiors are used as a depository for state chancery of South Bohemia. Its history dates back to the beginning of the 17th century, when the old archive of the Rožmberks was moved here. The next owners, the Švamberks and the Schwarzenbergs, continued and they enlarged it into 24 rooms. It has been a state archive since the Second World War and the documents of state, law and religion in South Bohemia can be found there.