The instructional cyclotrail Rožmberk leads in the countryside between the ponds Svět and Rožmberk, north of the town Třeboň.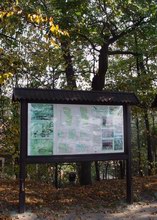 The trail acquaints visitors with natural and historical interests of the region round the town Třeboň. It describes ponds and pond systems, peat-bogs, forests, and waterlogged meadows with phytocoenose and zoocoenosis. It also informs of historical evolution of the region from the first colonization and with incorporated utilization and countryside transformation by man.
The circular trail is 22 km long. It starts on the dam of Svět pond on the southern outskirts of Třeboň. The path also ends in Třeboň near the Hradecká Brána (Hradec Gate). On the trail there are 12 informative boards and some resting places.
The path runs along secondary roads, partially also along field and forest roads. It is marked with usual tourist signs and with yellow cyclotrail sign.
Interesting places on the trail:
Třeboň - town, chateau, Schwarzenbergs' tomb
Opatovický Rybník pond - history of fishpond management in this region
Spálená Borkovna - peat-bog and its history
Zlatá Stoka (Golden Canal) - water canal connecting ponds in this region
forester's lodge Barbora - history of gamekeeping and hunting in this region
Stará Hlína - historical stone bridge
Rožmberk's dam - technical sight and interesting natural locality