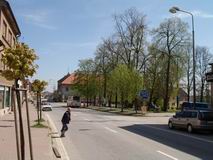 The small town Lišov lies 12 km north-east of the town České Budějovice, 505 m a.s.l. It is a well-known centre of furniture-making.
The history of the town dates back to 1334. In the 15th century it was already known as a town. Anthracite was extracted here in past.
The Pseudo-Gothic St. Wenceslas' Church in Lišov was built between 1862 - 1865.
One of seven basic points of the altitude measurement in the former Austro-Hungarian Empire is situated not far from Lišov, near the road from Lišov to the village Rudolfov. It is the stone pyramid called Locus Perennis which was wrongly considered to be the centre of Europe.
Větrník hill
reserve Velký a Malý Tisý
Dvořiště pond
small town and chateau Hluboká