Hluboká nad Vltavou is a very well-known town thanks to its chateau. The small town is situated on the banks of the Vltava river about 10 km north of the town České Budějovice, 394 m a.s.l.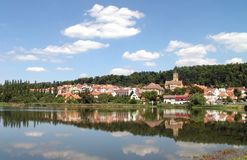 Originally it was a settlement around the castle, which was founded in the first half of the 13th century by King Wenceslas II. The castle was a strategic point of the King, but its importance reduced after the foundation of the town České Budějovice. In 1285 the village became property of Záviš of Falkenštejn, but the owners often changed. King Charles IV founded the water system with a lot of ponds around the town in the 14th century. The Bezdrev pond, one of the largest ponds in Bohemia, was built not far from Hluboká nad Vltavou at that time too.
The name of this settlement was Podhradí (it means "settlement around the castle") till 1869. In 1908 the town, already called Hluboká, was merged with the village Zámostí on the opposite bank of the Vltava river and the new town got the name Hluboká nad Vltavou ("Hluboká Above the Vltava River").
The well-known and valuable sight of Hluboká nad Vltavou is the chateau with the appearance in the style of the English Royal Castle in Windsor.
The Pseudo-Gothic Church of St. John Nepomucene from 1846 stands in the centre of the town.
Two game preserves can be found on both sides of the Vltava river north of the town. The Stará Obora (Old Preserve), on the right bank, is 1,542 ha large and it was used for the breeding of fallow-deers, mouflons and wild boars. The other preserve, on the left bank, is called Poněšická Obora (Poněšice Preserve). It is 1,582 ha large and stags were bred here.
The old Jewish cemetery from the beginning of the 18th century is located below the dam of the Munický Rybník (Munice Pond).
The small Baroque hunters' chateau Ohrada with the museum of forestry (hunting) and fishing and the small ZOO stand on the bank of the pond.
Bezdrev pond
ruins of the Karlův Hrádek castle
small village Hosín
small town Zliv