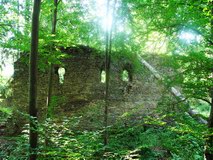 The quaint ruins of the hunters' Karlův Hrádek ("Charles' Small Castle") are situated on the left bank of the Vltava river near the Hněvkovice Dam about 7 km north of the small town Hluboká nad Vltavou, about 430 m a.s.l.
King Charles IV founded the castle here in the 14th century. It is first mentioned in 1357. At that time the village Purkarec was founded not far from the castle. Karlův Hrádek castle stood in the hunters' deer-park belonging to the Hluboká nad Vltavou castle. It was only used during huntings and it has been desolate since the end of the 14th century.
The red marked trail leads from the town České Budějovice along the Vltava river around the castle. It can be found about 2.5 km far from Purkarec.