The Hluboká nad Vltavou chateau is one of the best known and the fanciest chateaus in the Czech Republic. It towers on the rock spit above the Vltava river in the small town Hluboká nad Vltavou about 10 km north of the town České Budějovice.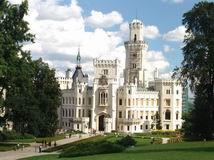 Originally it was a royal castle founded in the first half of the 13th century. Only a guardian tower has been preserved up till this day within the present highest chateau tower. During the 16th century the castle developed - the duct with water from the Vltava river was built and two game preserves - Stará Obora (Old Preserve - 1,542 hectares) and Poněšická Obora (Poněšice Preserve - 1,581 hectares) - were founded near. At the end of the 16th century the castle was rebuilt into the Renaissance chateau under the project of the Baltazar Maggi. In the 18th century the second reconstruction was in the Baroque style under the design of A. E. Martinelli and the large English park with a winter garden greenhouse were added. The present appearance of the chateau comes from the Romantic period, when it was rebuilt by the Viennese architect F. Beer in the style of the English Royal Castle in Windsor.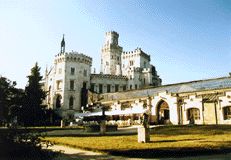 The chateau was property of the Schwarzenbergs from 1660 till 1947, when it was nationalized. They preserved a lot of valuables and interesting things there. A large collection of Brussels' carpets by Baudouin van Beveren (17th century), a collection of paintings of the Flemish and Dutch art in the Alšova Jihočeská Galerie (The South Bohemian Gallery of Mikoláš Aleš), ceramics, china, weapons, bookcases, the so-called Netolice Ark (15th century), etc. can be found there.