The former mining town lies 5 km north-east of the centre of the town České Budějovice on the hillside of the Lišovský Práh (Lišov Threshold), 480 m a.s.l.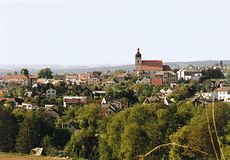 The history of the town is connected with the silver mining. The beginning of mining dates back to 1385, but the boom started in the second half of the 16th century. The village, which was called Velké Hory ("Big Mountains"), became a free mining town with a lot of privileges by the edict of Emperor Rudolph II in 1585 and it was named Město Císaře Rudolfa (The Town of Emperor Rudolph). The present name Rudolfov is derived from the name of the Emperor as well. The mining stopped in 1619, when the town was destroyed during the siege of the town České Budějovice and it lost all privileges.
In the 17th century Rudolfov was partially renewed, but it never reached previous importance. The new growth started in the middle of the 19th century with the development of lacemaking and distilling fruits.
The St. Vitus' Church towers above the landscape in the upper part of the village. The originally Renaissance church was built in the second half of the 16th century and then it was reconstructed in the second half of the 18th century.
The valuable building is the original seat of the Royal Mining Authority from the 16th century, which has been used as a town hall since 1690. It was built in the Renaissance style and it is richly ornamented (e.g. three sundials can be seen on the facade).
Another sight is the former Renaissance mansion from the end of the 16th century. It was burnt down in 1619 and it was only partially renewed.
The instructional trail Rudolfovo Město (Rudolph's Town) leads through the town and its surroundings.