The instructional trail Rudolfovo Město ("Rudolph's Town") leads in the small town Rudolfov and in its surroundings.
The trail acquaints visitors with the history of mining in Rudolfov, the town and town surroundings. It also informs of technical crafts built for mining of silver and anthracite.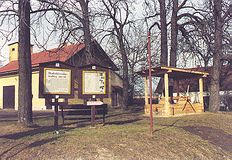 The trail has two circlular parts. One of them leads through the northern part of the town and passes the villages Adamov and Hůry and returns back to Rudolfov. The main topics of this part are the history of the town, mining, and water systems built for mining. It is about 5 km long with 9 informative boards and its route is marked by signs with black crossed hammers.
The other part runs from Rudolfov to the east to the village Hlincova Hora and then returns back to Rudolfov. This trail is about 4.5 km long and it connects places with small remainders of mining. This part is marked with white crossed hammers.
The point of departure is common to both paths and it is located in the square in Rudolfov. Both trails are also passable for cyclists.
| | |
| --- | --- |
| | |
Interesting places on the trail:
Rudolfov - history of the town
feeding system for the Třešeň pit
anthracite mines - the youngest history of mining in this region
Šibeniční Vrch hill - former execution place
St. Elias Pit - last silver pit in this region
mining in Rudolfov region
storage reservoirs for mines