The town Soběslav lies 18 km south of the town Tábor, on the confluence of the Lužnice river and the Černovický Potok (Černovice Stream) in the centre of the Borkovická Blata peat-bog (Borkovice Marshland), 405 m a.s.l.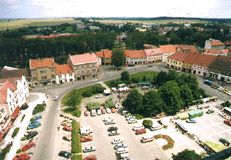 This area was probably settled in prehistorical time. Soběslav used to be a settlement around a castle. It is first mentioned in 1293 and was under the ownership of the Rožmberks. A hundred years later, in 1390, it was promoted to the town and its walls were built. In 1394 the castle became a prison for Czech King Wenceslas IV for a short time. During the Hussite Wars the town was burnt down twice. Its growth and development started in the 16th century. It became the most important economic and administrative centre of the domain of the Rožmberks due to its very good position and regular big markets.
A fire in 1598 started its decline, which continued during the Thirty Years' War. New development began at the end of the 19th century, after the construction of the railroad from Tábor (Prague) to České Budějovice, which leads through Soběslav.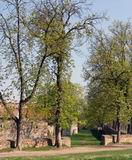 The castle, which was built in the 13th century, has been known as abandoned since the 15th century. Only the tower has been preserved up till the present day. The remains of inner and outer town walls and a single bastion have been preserved as well.
Several Renaissance citizen houses can be seen in the historical centre in the square. Two such building, Smrčka's House and Rožmberks' House, are presently used a town museum. The Renaissance town hall from the end of the 15th century, which has the Baroque facade from the beginning of the 18th century, can be found in the square as well.
The dominant building of the centre is the valuable Church of Sts. Peter and Paul from the 14th century, which stands in the western side of the square. The very interesting St. Vitus' Church, which is situated in the surroundings, was founded at the same time.
The originally Early-Baroque St. Mark's Church in the cemetery originates from the middle of the 17th century. The single-aisled church with the trilateral presbytery and the central Chapel of the Blessed Virgin Mary (1753) is used a as museum as well.
The composer Otakar Ostrčil lived in this region.
Černická Obora preserve
reserve Vlkovský Přesyp
Borkovická Blata peat-bog
nature reserve Ruda
Červená Lhota chateau
ruins of the Choustník castle
small village Záluží
small town Kardašova Řečice