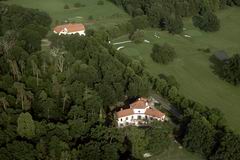 Černická Obora (Černice Preserve) was established near the former village Černice near the road between the towns Bechyně and Soběslav about 7 km east of Bechyně.
The originally large deer-park was founded here in 1586 by Petr Vok of Rožmberk. In 1880 one of the oldest nature reserves was established in this area for the protection of the old primeval mixed forest of pines, spruces, oak trees and horn beams.
The small Baroque hunters' mansion has been preserved in the former village. It was built in the place of the original Renaissance mansion in the 1760's.