The chateau Červená Lhota ("Red" Lhota), one of the best known water chateaus in the Czech Republic, stands in the village of the same name about 8 km north of the small town Kardašova Řečice (12 km west of the town Jindřichův Hradec).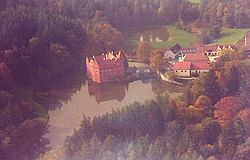 Originally it was a Gothic water fortress from the 14th century. It was rebuilt into the Renaissance chateau in the 16th century. Later the chateau was rebuilt into the Baroque style (17th century) and into the Neo-Gothic and the Neo-Renaissance styles at the turn of the 20th century. The name "Red" dates from the 17th century and it is taken from the chateau's red roof and walls.
The ownership of the chateau changed hands many times throughout its history.
Entrance to the chateau (originally intended as a summer chateau only) is over the stone bridge (this replaced the original wooden bridge). Around the chateau there is a park with the crypt of the last owners (the Schönburgs) from the 16th century (originally the chateau chapel).