The chateau stands above the Lužnice river in the town Bechyně (20 km south-west of the town Tábor).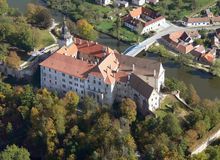 Originally it was a Gothic stone royal castle built in the 13th century. From the first half of the 14th century it had been a property of the members of the Czech higher nobility - e.g. the Šternberks, the Rožmberks and the Paars. In the 15th and 16th centuries it was rebuilt into the Gothic style and then into the Renaissance style at the end of the 16th century (during the ownership of Petr Vok of Rožmberk). From that time there is a northern part of fortification around the castle and a gate to the settlement, western bastion and the so-called the "Devil's Wall" preserved up till now. The new part of the chateau (northern part) was built between 1581 - 1584.
One of the well-known places of interest in this chateau is a column in the shape of a tree trunk in one hall.
The ornamental paintings created in the style of the Dutch originals can be seen on the small courtyard.