The small town lies about 9 km south of the town Milevsko, 463 m a.s.l.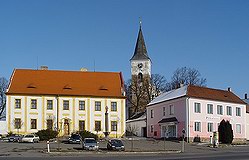 The first mention of Bernartice dates back to the end of the 13th century - it was under the ownership of Bernard of Bernartice. In the second half of the 17th century it became a Jesuits' seat.
The Gothic St. Martin's Church is one of the oldest sights in the town. It was built on the foundations of the original Romanesque church in the second half of the 14th century. In the 16th century it was reconstructed in the Baroque style. The stone column with the statue of St. Joseph from the 17th century can be seen not far from the church. The Baroque St. Florian's Chapel on the square originates from the 1st half of the 18th century.
The monument of the events, which happend at the end of the Second World War, stands on the small hill called "Na Posvátném" (the Holy Hill).
Dr. Vlasta Kálalová - Di Lotti, the doctor and the founder of the surgical institute in Baghdad (Iraq), was born in Bernartice.