The town Milevsko lies on Milevský Potok (Milevsko Stream) about 20 km north-west of the town Tábor and 12 km far from the Orlík Dam, 465 m a.s.l.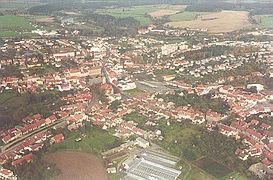 The town history dates back to the end of the 12th century when the construction of the Premonstratensian monastery started. In the 14th century it grew into the small town. The monastery was the main economic, cultural and ideological centre of the region at that time. It was closed down in the 18th century and the whole region declined. In the 19th century it became one of the poorest regions in Bohemia. A new flowering came after the Second World War (mainly industry started developing well).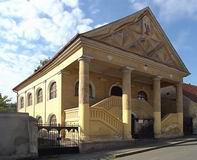 The oldest part of the town is the monastery on the northern outskirts. It comprises the Church of the Visitation of the Virgin Mary and St. Gilles' Church, which stands in the cemetery. In the complex there is a town museum too.
In the square in the centre of the town there is the Baroque old town hall from the 17th century, the Neo-Renaissance new town hall with graffiti from 1902 and the Pseudo-Romanesque St. Bartholomew's Church from 1866.
The Jewish synagogue with valuable portal with the Cubist elements was built between 1914 - 1919.
A speciality is the nature gallery of the modern granite sculptures from the 1990's in the Bažantnice park near the monastery.
A traditional carnival with fancy-dress parade has taken place in the town since the third quarter of the 19th century.
A lot of Czech important persons were born or lived in Milevsko: author Růžena Svobodová, writer Jiří Mařánek, sculptor Břetislav Benda, painter Karel Stehlík, etc.
The old Jewish cemetery lies on the north-eastern outskirts of the town about 1 km far from the monastery. It was used since the foundation at the beginning of the 18th century till the Second World War.
The instructional trail Milevsko leads through the town and its near surroundings.
instructional trail Vejrovským Zemanstvím
protected area Kněz
Květovská Obora (Květov Enclosure)
Orlík chateau
Zvíkov castle
village Červená nad Vltavou
village Sepekov
small town Bernartice
small town Jistebnice
Žďákov Bridge
Orlík Dam