The small town Jistebnice lies about 11 km north-west of the town Tábor on the stream with the biblical name Cedron, which is also called Smutná (Unhappy) on the lower reaches, 578 m a.s.l.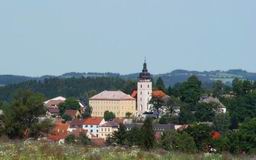 Jistebnice is first mentioned as a market village under the ownership of the Rožmberks in 1262. The Rožmberk family owned it till the second half of the 15th century, when Jistebnice was already a town for one hundred years.
The Rožmberks built the fortress here; its remains have been preserved to this day.
The Gothic St. Michael's Church from the 14th century stands in the square. It was founded in the place of the original Romanesque sacral building. Its Baroque appearance originates from the last reconstruction, which finished in 1718. The Pseudo-Gothic town hall, which is situated in the square too, is from 1889.
The small chateau is situated on the southern outskirts of the town. It was built in the style of the English castle in Windsor in the 19th century and it is surrounded with the English park.
The Chapel of St. Mary Magdalen towers above the town on the hill called Vyšehrad. It was built in the place of the older small church in 1861. The Stations of the Cross led to the chapel in past, but only 13 stone crosses have been preserved to this day.
Very important medieval relic - the illuminated hymn-book from the first half of the 15th century, which is known as Jistebnice Hymnal - was deposited in parochial archive in Jistebnice. It was found by Leopold Katz, the author of the History of the town Jistebnice, in 1872. The hymn-book contains words and scores of the Hussite chorals.
The painter and graphic artist Richard Lauda lived in Jistebnice.
Javorová Skála hill
Čertovo Břemeno hill
ruins of the Borotín castle
village Nadějkov