The ruins of the Borotín castle are situated on a small hill above the pond near the village of the same name about 12 km north-west of the town Tábor, 539 m a.s.l.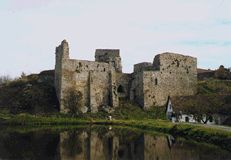 The castle is first metioned in 1356. In 1434 it was surrounded by the Hussites with their leader Prokop Holý, but it was not captured. At the beginning of the 17th century (1623) the castle was burnt by imperial troops and it was confiscated and became property of the Lobkowitzs. The castle was not restored again and it has dilapidated since that time. In the first half of the 19th century the castle was partially destroyed and stones were used as a source of material for building the village.
In the 1980's the ruins were conserved. The remains of both towers, the old palace and the new palace with the gate have been preserved up till present.
The dominant feature of the castle was a monumental round tower towered above the deep double moat. Behind the tower there was a semicircular courtyard surrounded with residential buildings. The second and smaller round tower stood in the south-eastern corner of the castle.
The ruins can be found on the blue marked trail about 10 km far from the small town Jistebnice or on the yellow marked path leading from the villages Střezimíř or Balkova Lhota. The red mark leads from Tábor (about 17 km) directly to the ruins. Access is possible by car from the village Sudoměřice in the direction of the small town Sedlec-Prčice too.