Zvíkov used to be one of the most important Czech castles. It is sometimes called "King of the Czech Castles" for its sumptuousness and location. It towers above the confluence of the Vltava and Otava rivers on the formerly high rock spit about 15 km north of the town Písek, 400 m a.s.l.
The deep valley below the castle was flooded by water from the Orlík Dam and now the water level reaches the castle.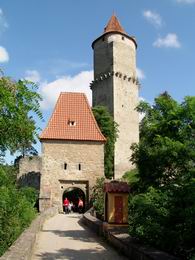 The prehistoric Celtic hillfort was probably here in the second half of the first millennium before Christ.
The first mention of the Zvíkov castle dates from 1234. The tower called Hlízová comes from that time. The building up of the castle was finished during the second half of the 13th century as a representative residence of King Premysl Ottakar II. It was not captured during the Hussite Wars (the first half of the 15th century) and the Thirty Years' War due to its convenient position and very good fortification system. Through time the castle was adjusted and reconstructed many times and many owners changed there - the Rožmberk family, the Švamberks, the Schwarzenbergs etc. Since the beginning of the 17th century it became less important and in the middle of the 17th century it was abandoned.
In the middle of the 19th century the castle was reconstructed by the Schwarzenbergs. The last big reconstruction was in the 1970's by the state.
Nowadays Zvíkov ranks as one of the most well-preserved castles in Bohemia. The view of three towers is typical of this castle: the front defensive tower called Hláska (Reporter) which shields the access to the castle, the Černá tower (Black - formerly called Hlízová) and the Červená tower (Red). The most important part of the castle is the Royal Palace with the valuable castle chapel.
Access to the castle is possible from the parking-lot in the village Zvíkovské Podhradí by way of a path with a nice view of the castle or by boat on the Orlík Dam (summer boat transport joins the Orlík Dam, Orlík chateau and the Zvíkov castle).
The instructional trail Orlík - Zvíkovské Podhradí ends in Zvíkovské Podhradí.