The castle and chateau Orlík towered high on the rock above the bend of the Vltava river (on its left bank) for many centuries. Its name means the "Small Eagle", because the castle's position looked like the eagle's nest. After completion of the Orlík Dam the valley below the castle was flooded and now water reaches the chateau.
The chateau lies about 12 km north-west of the town Milevsko.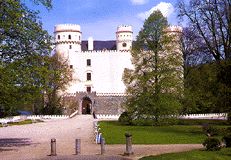 Originally royal castle was built in the second half of the 13th century. It was an important strategic point of the King in South Bohemia and it served for the defence of the adjacent ford across the river. The round tower comes from that time. The castle was modified and enlarged in the 14th and 15th centuries. The Renaissance reconstruction in the 16th century changed the castle into the chateau. From 1719 it was property of the Schwarzenbergs (one part of their family was called "from Orlík"). At the beginning of the 19th century the chateau was burnt down but it was promptly reconstructed and enlarged. In the second half of the 19th century it was reconstructed in the Neo-Gothic style.
| | |
| --- | --- |
| | |
In the interiors there is a collection of weapons (rifles) and a valuable bookcase with 18,000 books (the oldest are from the second half of the 18th century). Around the chateau there is a large English park from the beginning of the 19th century. There is a natural gallery of wooden carvings there too.
The Neo-Gothic tomb of the Schwarzenbergs from the middle of the 19th century stands near the chateau.
The chateau is accessible by car from the village Orlík or by boat on the Orlík Dam (summer boat transport on the dam joins the Orlík Dam, Orlík chateau and the Zvíkov castle).
The instructional trail Orlík - Zvíkovské Podhradí begins near the chateau.