Sepekov is a well-known pilgrimage place. The village lies about 3 km south-east of the town Milevsko on the Milevský Potok brook (Milevsko Brook), 500 m a.s.l.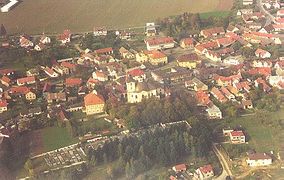 Its history dates back to the 13th century - it was founded by the family of Vítkovec of Prčice.
The dominant and the most important architectural sight of the village is the pilgrimage Church of the Blessed Virgin Mary. The Baroque building dates from 1730 - 1733 and it was built under the design of Tomáš Haffenecker.
In the central oval building with a presbytary and a tower on the left side there are valuable Baroque furnishings. A Gothic painting of the Virgin Mary of Sepekov can be seen on the main altar. The church is surrounded by a cloister with small chapels in the corners from 1760 - 1767. The sculptures inside were made in the workshop of I. F. Platzer in about 1770.
About 2 km east of Sepekov, above the Chobot pond (Loch) there used to be a fortress called Skalice built by the Vítkovec family. It was probably the birthplace of Záviš of Falkenštejn.
The sculptor Břetislav Benda was born in the small village Líšnice not far from Sepekov.