The Premonstratensian monastery in the town Milevsko is the oldest one in South Bohemia and it is a valuable Romanesque sight. It is situated on the northern outskirts of Milevsko, which was built at the same time as the monastery.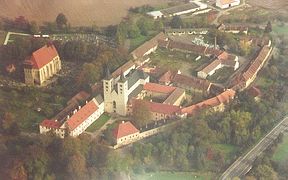 The monastery was founded by magnifico George of Milevsko probably in 1184. The first mention of the monastery dates back to 1187 when the first abbot called Gerlachus (one of the successors of Kosmas, the Czech chronicler) lived here. Shortly after the inception of the monastery a village, later a town, was founded around the monastery. The construction of the fortified monastery finished in the 14th century. For a long time it was a centre of education and culture in South Bohemia. In 1420 the Hussites captured it. The owners of this property changed many times during that time and the monastery was returned back to the Premonstratensians in 1623 only. It was under the control of the monastery in Strahov (Prague) and the provost residence was established here. During the 17th and 18th centuries the monastery was reconstructed in the Baroque style. Its existence was abolished in 1785 by an edict of Emperor Joseph II.
The Church of the Visitation of the Virgin Mary is the central edifice of the monastery. Its construction started before 1200. At the same time the St. Gilles' Church was founded. It is an important example of the Romanesque religious architecture.
Nowadays the Premonstratensians once again use the monastery. Both churches are open to the public and the town museum is also located in the precinct.