The ruins of the Dobronice castle lie on a rock pit above the Lužnice river, 440 m a.s.l. It is near the village Dobronice, about 6 km north of the town Bechyně.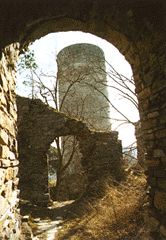 The castle village Dobronice was already founded at the end of the 12th century. The castle was built there in the first half of the 14th century. After 1455 it was enlarged and at the beginning of the 16th century a chapel and residential buildings were added. In 1691 the castle was sold and it became property of the Jesuits from Opařany but they soon left it. In 1790 the demolition started and the castle was destroyed in the 19th century. In the 19th and 20th centuries the ruins were reconstructed and stabilized.
The dominant feature of the castle is the round tower. The remains of the castle palace from the 14th century, the chapel and the residential buildings have been preserved as well.
The Gothic Church of the Blessed Virgin Mary (founded in the 14th century) stands not far from the castle in an area with nice views of the Lužnice river valley.
The ruins are accessible from the small village Dobronice or along the road marked by the red sign from Bechyně (about 7 km) or from Tábor (about 22 km). The blue marked path (about 6 km) leads to the ruins from the railway station Třebelice (on the railroad Tábor - Bechyně).