The small town Opařany lies about 15 km west of the town Tábor, 464 m a.s.l.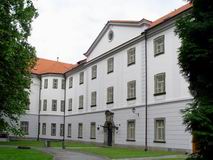 The first mention originates from the 13th century. In the 17th century the town became property of the Jesuits from Jindřichův Hradec, who built a Baroque residence here for education of priests. Later the branch of the Royal Regional Madhouse for adults was located in this residence. Since 1923 it has been used as a hospital for mentally handicapped children.
The Church of St. Francis Xavier adjoins the residence. It was built under the design of the K. I. Dienzenhofer between 1732 - 1735 in the place of the original sacral building. Its furnishings are from the same time and its interior is one of the most valuable Baroque works in Central Europe.
Jesuit Antonín Koniáš, the notorious Czech counterreformator, worked in Opařany in 1744 - 1745.