The village Albrechtice nad Vltavou lies in the hollow above 12 km south-east of the town Písek, 428 m a.s.l.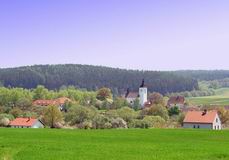 The village dates from the 12th century grew through the centuries into a small town. It was destroyed at the time of the Thirty Years' War, but later the village was restored.
One of the most significant Romanesque sights of South Bohemia is the Church of Sts. Peter and Paul in the village. It was probably built about 1190. Its present appearance is the result of the Baroque reconstruction in the 18th century. The monumental Romanesque paintings - the oldest in South Bohemia - can be seen on the church's walls.
The unique cemetery is around the church. There are 108 small chapels with paintings of rural painters and with short poems of folk poets there. They come from the 19th century and they talk about important events in the life of the deceased.