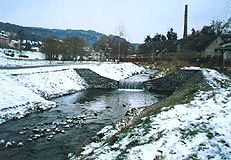 The Volyňka river is the right tributary of the Otava river (in the town Strakonice). It springs on the eastern slope of Světlá Hora (Light Mount - 1,123 m) about 10 km south of the town Vimperk.
It heads to the north all the way. It runs through Vimperk, the small town Čkyně, the town Volyně and then it joins the Otava river in Strakonice.
The more important branches of the river are the small river Spůlka (confluence ahead of Čkyně) and Peklov stream (confluence between Volyně and Strakonice).
The river is navigable for small boats from Vimperk to the mouth; the most favourite part is between Vimperk and the village Sudslavice.
The length of the river is 46 km and it drains water from the area 413 square km. The drop between the mouth and the spring is 727 m.
The red marked tourist path leads along the river between the towns Volyně and Strakonice. The upper reaches of the river (from the small village Borová Lada to Vimperk) are marked with the green sign.