The town Volyně is situated on the Volyňka river about 11 km south of the town Strakonice, 461 m a.s.l.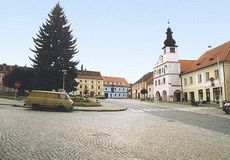 It used to be a fort, which arose near a ford across the Volyňka river in the 9th or 10th century. The autonomous village is first mentioned in 1271 and in 1299 it already became a town. It was a centre of colonization of this area and it obtained a lot of privileges and rights including the right to brew beer. During the 15th and 16th centuries crafts and sheep breeding developed most quickly, and the import of salt to Bohemia became an important source of money for the town. The trade routes, which led through or near the town, were not used in the 17th and 18th centuries. Also many fires devastated Volyně at that time. The fires destroyed the medieval face of the town and the growth of the town stopped.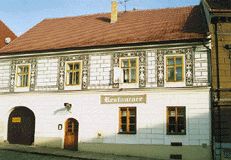 The town comprised two autonomous parts in past and two squares have been preserved here. The originally Renaissance town hall, which was built between 1501 - 1529, and the Marian column from 1760 stand in the upper square. The Jewish synagogue was built in the surroundings in 1939.
A Gothic fortress on a knoll north of the square, which replaced the previous fort, has been well preserved. It is the location of the town museum in present.
The All Saint's Church was founded together with the fortress in the surroundings. It was enlarged between 1460 - 1505, when the second aisle was added.
The Church of Transfiguration of Christ can be found in the cemetery on Malsička hill on the southern outskirts of the town. It was built under the design of V. Vogarelli between 1580 - 1618. It is arched with the ctenoid vault.
The Jewish cemetery with the richly ornate tomb stones can be seen on Děkanský Kopec (Decanal Hill). It was founded before 1724.
Volyně is a hometown of the economist Josef Kaizl, the architect Josef Niklas and the literary critic Antonín Matěj Píša.
The small village Zechovice with a lot of houses in the style of the so-called rural South Bohemian Baroque from the middle of the 19th century lies about 2 km south-west of Volyně.
The pilgrimage Chapel of the Blessed Virgin Mary can be found about 5 km east of the town in the forest in the neighbourhood of the village Střítež.
ruins of the Helfenburk castle
village Lčovice
small village Lštění
small village Hoštice
village Vacov
small town Bavorov
small tonw Čkyně
castle town Strakonice