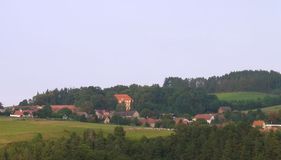 Lčovice (590 m a.s.l.) lies about 9 km north-east of the town Vimperk and about 6 km south-west of the town Volyně.
The history of the village dates back to the first half of the 14th century. Until the 19th century there changed several not important owners, the most important proprietor was the Hodějovský family from Hodějov at the turn of the 17th century.
Originally there stood a fortress in the village. It was rebuilt into the Renaissance mansion. During the 18th century the mansion was enlarged, its frontage was decorated with arcades and also several arbours were built in the park. Josef Zítek, the architect of the Czech National Theatre, was one of the owners of the mansion.
The Chapel of the Most Holy Trinity in the village originates from the 17th century.
The small village Lčovice with chateau lies about 2 km east of Čkyně.