Helfenburk castle is situated 7 km west of the small town Bavorov. Very well preserved remains of the castle tower on the rock 680 m a.s.l. and it offers nice views of the country.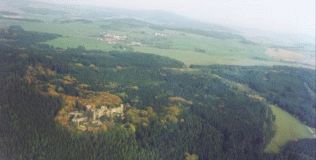 The construction was agreed by King Charles IV in 1355 and a monumetal castle arose here. In the second half of the 15th century an extensive settlement round the castle was founded. The castle's owners often changed and several times it became property of the founders - the Rožmberks. They were the last occupants of Helfenburk. After finishing their new Renaissance residence - Kratochvíle chateau - at the end of the 16th century, the castle was abandoned. None of its later possesors lived there.
The castle had the semicircular layout. Its dominant feature - a round tower with nice views of the country - has been preserved up till the present day. The remains of the second round tower, palaces and walls with a moat have been preserved too.
The ruins can be found on the blue marked path leading from Bavorov (6 km) or from a turning-off from the road Bavorov - Volyně (about 1 km). They are accessible along the red sign from the small town Husinec (about 18 km) too.