The small town Bavorov lies near the Blanice river in the Šumavské Podhůří (Šumava Foothills) about 8 km south-west of the town Vodňany, 446 m a.s.l.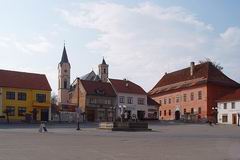 The town was probably founded by Bavor III of Strakonice at the turn of the 14th century on the trade route Zlatá Stezka (Golden Path). Then the Rožmberks owned it. Under their ownership the village grew and it had a lot of privileges and rights of royal towns. It was an administrative centre of the region at that time.
The Church of the Assumption of Virgin Mary stands not far from the north-western corner of the square. It was originally a two-aisled basilica from 1370 - 1389 and it is one of the oldest Gothic sacral buildings in South Bohemia. Its southern tower was added in 1604. After the Bavorov fire in 1649 it was rebuilt into a three-aisled church and at the beginning of the 20th century it was reconstructed in the Neo-Gothic style.
The southern portal originates from time before 1389. The furnishings come from the second third of the 18th century. The painting of the Assumption of Virgin Mary, assigned to the Czech painter Karel Škréta, can be seen on the main altar.
The fountain in the square belongs to the preserved technical sites.
The place called Na Hradišti ("On the Fort") can be found on the eastern outskirts of Bavorov. The knoll was designated for the construction of the fortress in the 13th century, but it was never finished.
About 7 km west of the town there are large ruins of the Helfenburk castle. The tourist path leads there directly from the town.
hill Lomec
small village Chelčice
town Husinec
small town Vlachovo Březí