The small town Vlachovo Březí lies about 4 km north-west of the town Husinec on Libotyňský Potok (Libotyně Stream), 525 m a.s.l.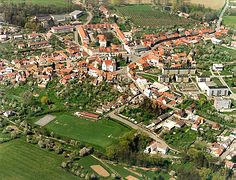 The hamlet called Březí originates from 1274 when it was under the ownership of the Lords of Březí. Later the village became property of the Lords of Malovice and it has been named Vlachovo Březí ("Vlach's Březí") after a member of the family since the beginning of the 15th century. In 1868 Vlachovo Březí got the statute of the town from the ruler.
The former fortress, which burnt down in 1468, stood above the town square; it was rebuilt during the Renaissance period into a chateau. In 1620 it burnt down again. Its present look comes from the first half of the 17th century.
The main sight of the town is the Baroque Church of the Annunciation of the Virgin built in the place of the original Romanesque sacral building.
A lot of houses have been preserved from the flowering of the rural architecture. Their Baroque gables were formed by Jakub Bursa.
The Chapel of the Holy Ghost can be found on the hill with a calvary above the mansion. It was built in the 18th century; the Stations of the Cross come from 1853.
On the northern outskirts of the town, not far from the Chapel of the Holy Ghost, there is the Jewish cemetery from the beginning of the 18th century.
The poet and revivalist Jan Vlastislav Plánek was born here.
Mářský Vrch hill
ruins of the castle Helfenburk
village Záblatí
small town Čkyně
town Husinec
Husinec Dam