The town Vodňany is situated about 7 km south-west of the town Protivín near the Blanice river in the countryside full of ponds in the Českobudějovická Pánev (České Budějovice Basin), 398 m a.s.l.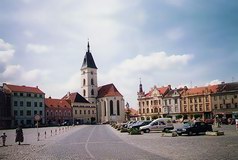 The town was probably founded by King Premysl Ottakar II in the second half of the 13th century in the place of a former settlement of fishermen, which was called Vodná. It obtained a lot of burghal rights and privileges in 1336. During the Hussite Wars the town was important support of the Hussites. In the 15th century many ponds were founded in the surroundings and the fishery developed here. The gold washing on the Blanice river started the boom of Vodňany at the same time. During the Thirty Years' War the town was ravaged and the growth stopped. The joyless economic situation became even worse after big fire of the town in 1722. The new flowering began in the 19th century. The special school of fishery has been here since 1920.
The remains of the town walls with three towers from the middle of the 15th century (two of them can be seen about 100 m south of the square) have been preserved here.
The dominant building of the square is the Church of the Nativity of Virgin Mary. The originally Early-Gothic two-aisled church was built between 1415 - 1435. It was reconstructed in the 1580's and later it was rebuilt into the Neo-Gothic style between 1894 - 1897. The Czech painter Mikoláš Aleš participated in the design of the interior. The Pseudo-Gothic furnishings are in the church.
Some Renaissance houses can be seen around the square with the fountain (the 1920's).
The Napoleonic Church of St. John the Baptist from 1844 can be seen in the town as well.
The town museum with exhibitions of the town history, fishery and pond culture is located in the town hall (in the square) and in the former synagogue.
Vodňany is a hometown of the famous humanist Master Jan Campanus and writers František Herites and Natanael Vodňanský. The dramatists and novelists Julius Zeyer and Josef Kajetán Tyl lived in this town as well.
The Lomec hill with the pilgrimage Baroque Church of the Name of Virgin Mary lies not far from Vodňany.
Kratochvíle chateau
ruins of the Helfenburk castle
small village Chelčice
small town Bavorov
town Netolice
town Protivín