The old-time town Netolice is one of the oldest South Bohemian towns. It is very well-known for centuries due to its fabled bread (the bakers' guild in Netolice obtained privileges in 1338 and is the oldest one in Bohemia). It lies about 35 km north-west of the town České Budějovice on the Netolický Potok (Netolice Stream) at the foot of the Šumavské Podhůří (Šumava Foothills), 432 m a.s.l.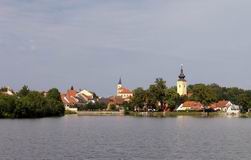 It used to be a settlement of the tribe of the Netolics. At the end of 10th century there used to be a borderline castle of the Slavníkovec family, which protected the trade route to Austria. King Premysl Ottakar II founded the town here in the third quarter of the 13th century and he dedicated Netolice to the ownership of the monastery in Zlatá Koruna. At the beginning of the 16th century Netolice became property of the Rožmberks. They built their new Renaissance residence - the Kratochvíle chateau - about 2 km north-west of the town. During the revolt in 1619 Netolice was captured and burnt down. The new growth started in the 18th century, when the tradition of breeding horses and horse and cattle markets were founded here.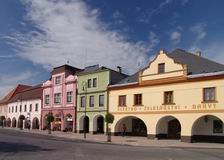 The dominant feature in the square is the Neo-Renaissance town hall, which was built under the design of Josef Niklas in 1869. The fountain in the middle of the square is from 1677.
The so-called Rožmberks' House stands in the square too. It originates from the second half of the 16th century and it is the location of the regional museum. A collection of weapons, folk furniture, glass, porcelain and tin can be seen there. One of the exhibitions is a collection of postcards (the second biggest in Bohemia) and the biggest collection of folk needlework.
The Church of the Blessed Virgin Mary was built on the eastern outskirts of the town centre at the end of the 13th century. The originally Gothic church was rebuilt into the Baroque style in 1648.
The Early-Gothic St. Wenceslas' Church was founded before 1300. It was built in the place of the original Romanesque church and it was reconstructed in the 14th and 18th centuries.
The instructional trail Historická Krajina Netolicka ("Historical Countryside of Netolice") leads through the town and it acquaints visitors with important interests of Netolice. The cyclotrail of the same name runs around the town along natural and historical interests of the region.
Štěpánek Netolický, the famous designer and builder of the South Bohemians ponds, was born in Netolice.
The Lomec hill with the pilgrimage Baroque Church of the Name of Virgin Mary can be found not far from Netolice.
ruins of the Helfenburk castle
Kratochvíle chateau
obec Chelčice
small town Bavorov
small town Lhenice
small town Zliv