The monastery Zlatá Koruna is one of the best preserved Gothic monasteries in Bohemia. It was built at the foot of Kleť mountain in the place enclosed by the Vltava river from three sides. The village with the monastery lies about 7 km north-east of the town Český Krumlov, 473 m a.s.l.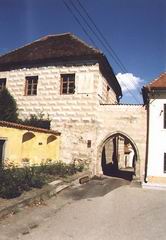 King Premysl Ottakar II founded the monastery in 1263 and he named it Monastery of St. Crown of Thorns. The monastery, belonged to the Cistercians, grew rich and it was an important strategic place of the King in the region.
After the King's death the monastery grew poor and it was damaged several times. The rebirth came with King Wenceslas II (ruler between 1278 - 1305). In the middle of the 14th century the monastery burnt down, in 1420 and 1429 it was captured by the Hussites. After the Hussite Wars it grew again and it was enlarged. In 1785 most of monasteries in Bohemia were closed by an edict of the Emperor including this one and its buildings were changed to a factory.
The precinct contained a farmstead (today's village) and a fortified monastery with abbacy. The main bulding is the Church of the Assumption of Virgin Mary with the adjoing double-hang convent with a cloister and with a chapter hall (all from the end of the 13th century). The oldest part of the monastery is a small convent with the Chapel of the Guardian Angels built in the Early-Gothic style at the beginning of the 1280's.
At the beginning of the 20th century the monastery was reconstructed. Nowadays it is open to the public and the exhibitions of South Bohemian literature can be found there.