Kleť is the highest mountain (1,084 m) of the Protected Landscape Area Blanský Les (Blansko Forest). It towers above the town Český Krumlov, about 7 km to the north-west.
This distinct mountain and the nearest peak of the town České Budějovice is favourite object of tourist trips from wide region and famous winter holiday centre with ski-slopes and ski-lifts on the slopes.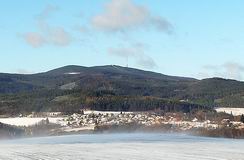 The stone observation tower, which was built on the top in 1825, is the oldest one in Bohemia and it offers nice views of the surroundings and of the Novohradské Hory (Nové Hrady Mountains) and the Šumava mountains (Bohemian Forest). A tourist chalet with a restaurant stands near the observation tower.
The highest located sundial in Bohemia is situated near the observation tower as well.
The observatory and the planetarium stand not far from the peak too and the nature reserve of the same name lies north-west of the peak.
The 1,860 m long chair-lift (with drop 385 m) runs to the peak from the small village Krasetín (about 4 km south of the village Křemže). The green marked trail from the village Holubov (6 km) or from Krasetín (4 km) leads on the northern slope to the peak. It continues to the south, to Český Krumlov (about 12 km). The red sign heads to the top from the small village Zlatá Koruna (about 10 km).