The Novohradské Hory (Nové Hrady Mountains) lies along the Czech-Austrian border among the towns Nové Hrady, Dolní Dvořiště and the small town Benešov nad Černou. The mountains cover and area of 162 square km.
The highest peaks of the mountains are over 1,000 m high. Three of them are in the Czech part - Kamenec (1,072 m), Myslivna (1,040 m) and Vysoká (High - 1,034 m); eleven lie in Austria.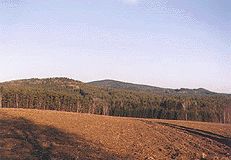 The Novohradské Hory is a valuable untouched nature area with a lot of natural forests, which cover about 75% of the whole region, and with big concentration of nature interests: the nature park Terčino Údolí (Theresa's Valley), the nature reserves Žofínský Prales (Žofín Forest) and Hojná Voda, etc.
Due to its importance the Nature Park Novohradské Hory was established here in 2000.
This area was not open to the public for a long time after the Second World War during the communist era. It was declassified and the new tourist trails and infrastructure were founded here after 1989.
The Novohradské Hory is planned to be a protected landscape area in future. The borderline of the intended protected area joins Nové Hrady, the Žumberk fortress, the village Rychnov nad Malší, Benešov nad Černou and the village Malonty and then it runs to the south directly to the state border.