The small town Dolní Dvořiště with the border crossing is situated about 11 km south of the town Kaplice near the Czech-Austrian border, 618 m a.s.l.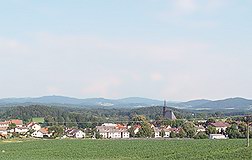 The town was founded in the 13th century near the trade route from the town České Budějovice to northern Austria.
The St. Gilles' Church is the valuable example of the South Bohemian Late-Gothic architecture. It originates from the 15th century and it is arched with the noteworthy ribbed vault.
The ruins of the Tichá fortress can be seen about 5 km south-east of the town.